Investing in the stock market can seem intimidating, especially for beginners who are new to the world of finance. However, with the right knowledge and guidance, anyone can start investing in stocks and reap its benefits.
If you're looking to dip your toes into the Indian stock market but don't know where to begin, then this blog post is perfect for you!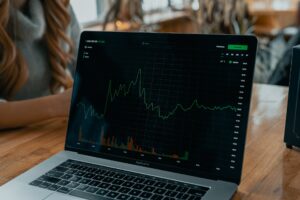 In this beginner's guide, we will cover everything from understanding the basics of stocks to picking your first investment. So get ready to take charge of your financial future and learn how to invest like a pro!
Introduction to the Stock Market
The stock market is a collection of markets where stocks (pieces of ownership in businesses) are traded between investors. It usually refers to the exchanges where stocks and other securities are bought and sold. The stock market can be used to measure the performance of a whole economy, or particular sectors of it.
Stock markets exist so that businesses can raise money by selling shares to investors, and investors can make money by buying and selling shares. When you buy a share, you become a part-owner of the company whose shares you have bought.
The price of a share is determined by how much people are willing to pay for it. The more people want to buy a share (because they think the company will do well), the higher the price will go. The less people want to buy a share (perhaps because they think the company might not do so well in future), the lower the price will be.
A company's shares are traded on a stock exchange. In India, there are two main exchanges: the Bombay Stock Exchange (BSE) and the National Stock Exchange (NSE). To trade on either exchange, you must open an account with a broker who is registered with that exchange.
Benefits of Investing in the Stock Market
When it comes to investment, there are multiple options available in the market. Each option has its own set of benefits and drawbacks. Among all the investment options available, investing in stocks is considered to be one of the most lucrative ones. Investing in stocks can help you earn a good return on your investment, provided you know how to invest wisely.
There are numerous benefits of investing in stocks. Some of the major benefits are mentioned below:
1. Helps in Wealth Creation: One of the primary reasons why people invest in stocks is because it helps them create wealth over a period of time. If you invest in good quality stocks and hold them for the long term, chances are that you will make good money from your investments.
2. Gives You an Opportunity to Beat Inflation: Over a period of time, prices of goods and services tend to increase due to inflation. This means that the purchasing power of your money decreases. However, if you have invested in stocks, you can beat inflation by earning dividends from your investments as well as capital gains when you sell your shares at a higher price than what you paid for them.
3 . Offers High Return on Investment: Stocks have the potential to offer high returns as compared to other investment options such as fixed deposits and bonds. This is because stock prices are volatile and can go up or down depending on various factors such as company performance, economic conditions etc. While there is always a risk associated
Different Types of Stocks
There are two main types of stocks: common stock and preferred stock. Common stock is what most people think of when they think of stocks. It is ownership in a company that can be bought and sold on the open market. Preferred stock is a type of stock that has preference over common stock in terms of dividends and assets in the event of liquidation.
Different types of stocks offer different advantages to investors. For example, growth stocks tend to have high price-to-earnings ratios and don't pay dividends, but they offer the potential for capital gains as the company's earnings grow. Value stocks, on the other hand, tend to have low price-to-earnings ratios and may pay regular dividends, providing income along with the potential for capital gains.
Income stocks are a good choice for investors who want regular cash flow from their investments. These companies tend to have stable businesses with little debt and pay out most of their earnings as dividends. They may not offer much upside potential, but they can provide stability and peace of mind during volatile market conditions.
Growth stocks are riskier than income or value stocks, but they offer the potential for greater rewards. These companies reinvest their earnings back into their business to fuel growth, so they don't pay out regular dividends. They may be more likely to experience ups and downs in their share prices, but over the long run they have the potential to generate higher returns for investors.
How to Start Investing in Indian Stock Market for Beginners?
If you're a beginner investor looking to get started in the stock market, there are a few things you should know. Here's a quick guide on how to start investing in India:
1. Determine your investment goals. What are you hoping to achieve by investing in stocks? Are you looking to grow your wealth over the long term, or are you more interested in generating income? Knowing your goals will help you determine which stocks to buy and when to sell them.
2. Research Indian companies. Once you've determined your investment goals, it's time to start researching Indian companies. Consider factors such as a company's financial stability, competitive advantages, and growth potential. You can find this information on websites like Google Finance and Yahoo! Finance.
3. Open a brokerage account. In order to buy and sell stocks, you'll need to open a brokerage account with an Indian stock broker. When choosing a broker, be sure to compare fees, services, and investment options before making your decision.
4. Start buying stocks! Once you've opened your brokerage account, you're ready to start buying stocks! Beginners may want to consider investing in index funds or mutual funds rather than individual stocks at first. These provide diversification and can help minimize risk while you're still learning the ropes of investing.
Different Investment Strategies for Beginners
There are different investment strategies for beginners, each with its own risks and rewards.
1. Growth investing: This strategy focuses on stocks that are expected to grow at a faster rate than the overall market. While these stocks may be more volatile in the short-term, they offer the potential for greater returns in the long-term.
2. Value investing: This strategy involves buying stocks that are undervalued by the market and selling them when they reach their fair value. Value investors often look for companies with strong fundamentals but whose stock price is currently low.
3. Dividend investing: This strategy involves reinvesting dividends received from stocks in order to increase one's return on investment. Dividend stocks tend to be less volatile than growth stocks, making them ideal for beginner investors who are risk-averse.
4. Index investing: This strategy involves investing in a basket of stocks that track a particular index, such as the S&P 500 or the Dow Jones Industrial Average. Index funds offer diversification and lower fees than actively managed funds, making them a good choice for beginner investors.
Top Indian Companies to Invest In Indian Stock Market
When it comes to investing in the stock market, there are a lot of options available. However, if you're looking specifically for Indian companies to invest in, here are some of the top picks.
Reliance Industries: This Mumbai-based conglomerate is one of the largest and most diversified companies in India. It has interests in sectors like energy, petrochemicals, textiles, natural resources, retail, and telecommunications.
HDFC Bank: HDFC Bank is India's second-largest bank by assets and is one of the most profitable banks in the country. It offers a wide range of banking products and services to its customers.
Hindustan Unilever: Hindustan Unilever is one of India's leading consumer goods companies. It has a diverse portfolio of products that includes personal care, food & beverages, and home care products.
Kotak Mahindra Bank: Kotak Mahindra Bank is another leading Indian bank that offers a wide range of banking products and services to its customers. The bank has a strong presence in both rural and urban areas of the country.
Tips for Investing in the Indian Stock Market for beginners
Assuming you have some basic knowledge about the stock market, let's move on to some tips that will help you invest in the Indian stock market.
1. Do your homework: Before investing in any stock, it is crucial that you carry out your own research. This includes looking at the company's financials, understanding the business model and its competitive advantages, and getting a sense of the management team. You can find all this information on the company's website and other financial websites.
2. Consider your investment objectives: What are you looking to achieve from your investment? Are you looking for capital growth or income? Depending on your answer, you will need to choose different stocks. For capital growth, you will want to look for stocks that are undervalued by the market and have good upside potential. For income, you will want to look for stocks that pay regular dividends.
3. Consider your risk tolerance: How much risk are you willing to take on? This is an important question to ask yourself before investing in any stock. If you are risk-averse, then you will want to stick with large companies that have a proven track record of success. If you are willing to take on more risk, then you can look at small-cap stocks or even penny stocks. However, these come with a higher degree of risk and should only be considered if you are comfortable with that level of risk.
4. Have a diversified portfolio: It is important to diversify your portfolio so that you are not overly exposed to any one particular stock or sector. Diversification will help to spread out your risk and ensure that any losses in one stock are offset by gains in another.
5. Invest for the long-term: The stock market is inherently volatile, so it is important to have a long-term focus when investing in stocks. This means looking beyond short-term fluctuations and considering the longer-term potential of each stock.
6. Monitor the news: You should be aware of what is happening with the companies you are invested in, as well as news from the wider stock market. This will help you make more informed decisions about when to buy and sell stocks.
7. Be patient: Don't expect overnight success when investing in the stock market – it takes time for investments to mature. Patience is key if you want to be successful in the long run.
Risks of Investing in the Stock Market
There are certain risks associated with investing in the stock market. These risks can be broadly classified into two categories:
1. Market Risks: These are risks that are inherent to the stock market and cannot be diversified away. Some of the major market risks include political risk, interest rate risk, inflation risk and exchange rate risk.
2. Company-Specific Risks: These are risks that are specific to a particular company and can be diversified away by investing in a large number of companies. Some of the major company-specific risks include business risk, financial risk and management risk.
Investors must bear in mind that while there is potential for gains, investments in the stock market can also lead to losses. Therefore, it is important to understand the risks associated with investing in stocks before making any investments.
Conclusion
Investing in the stock market is a great way to earn additional income and grow your wealth. With this Guide to Investing in stock market for beginners, you now have all of the knowledge you need to begin investing in Indian stocks with confidence. By following these tips and tricks from experienced investors, you can start building your portfolio today!